Funny Halloween Coloring Book
The Spooky Kooky Halloween Coloring Book!




An all new Halloween Coloring Activity Book is coming!
Packed with weird characters, fun games and puzzles!


It's the perfect party favor for your next Halloween bash!
You can get Free Samples right now!
Just visit our Halloween Coloring Pages section.
Purchase Happy Halloween Coloring Books
Purchase Happy Halloween Printable Download Version
Get Free Happy Halloween Coloring Pages
We make funny halloween coloring books
Do you want all the funny Halloween coloring pages
without the hassle of waiting for the book to arrive
or downloading each free sample one by one!

Here's just the solution!
Get the Full Printable Download and start coloring
as soon as you like!
Funny Halloween Coloring Page -Free Printable Download-
Look out!  An adorable little dracula-boy is swooping out of the eerie night sky!
He's just one of the many funny coloring pages coming your way when you
get our new Halloween coloring book!
Or you can download this Free Printable Download right now!
You can get more Free Samples from our
Halloween Coloring Pages section right now!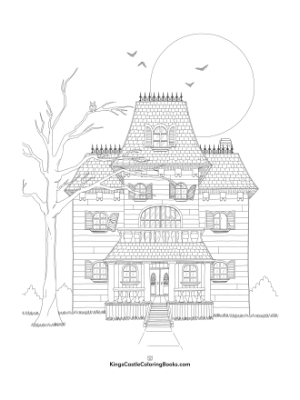 The Old Haunted House!
Our new Halloween Coloring book is underway!
Imagine all the funny things that could happen in a haunted house!
Not so funny "ha ha" - but funny-strange!
Just imagine your car gets a flat tire on a dark, lonely road.
It starts to rain.  Lightning flashes!
A spooky old house is just a short walk away.  But are the ghosts friendly?
Only one way to find out!
You'll also find this page in our funny Halloween Coloring Book
and Full Printable Download!
Spooky Trees!




Weird funny trees come alive under
the full moon!


Do you enjoy Candy Corn?
Don't eat too much!

These pictures are part of our upcoming funny Halloween coloring book!

Don't forget to visit our
Free Halloween Coloring Pages
for Free Printable Download Samples!

Candy Corn is a Halloween Treat!
funny Halloween coloring and games
Our new funny Halloween coloring book has games and activities - such as these word puzzles
surrounded by weird and wacky Halloween characters to color!

Halloween Crossword Activity Page - Free Printable Download -
Want a Free Sample while you wait for the new book?
Enjoy coloring this funny witch and her pet bat!
Not to mention her friend, the ghost and her Jack-o-lantern patch.
Color them as many times as you like with this Free Printable Download!
The answers to this crossword (and all of our other puzzles)
can be found in our PUZZLES section - no peeking!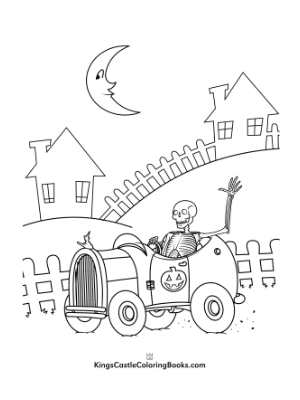 A friendly skeleton takes a joy-ride!
What's funnier than a skeleton driving around in an old jalopy!
We'll think of something!
And you'll get your chance to color this boney character when
you order our funny Halloween Coloring Book!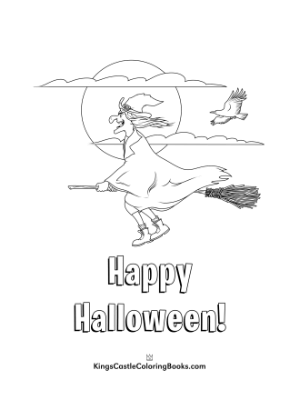 A freaky witch flies through the air!
No Halloween coloring book is complete without an old cackling witch
soaring through the midnight sky on her magic broom!
Yet another fun page from our new Halloween coloring book!
We enjoy drawing unique cartoon characters for coloring fans.
We hope you enjoy coloring these weird, funny Halloween creeps!
We make Coloring Books and Printable Download Pages suitable for perfectly normal folks and  the living dead!

Have a look at our growing line-up of coloring books (and printable pages) for kids of all ages!

Coloring books (and printable pages) satisfy lazy afternoons and wild parties alike!


Free Samples, Right This Way!
Get our funny halloween coloring book!
You can get Free Samples right now!
Just visit our Halloween Coloring Pages section.
Purchase Happy Halloween Coloring Books
Purchase Happy Halloween Printable Download Version
Get Free Happy Halloween Coloring Pages
When Dracula tries to be funny
Vampires are often the subject of fun and games in the movies.
There have been many films that poke fun at the trials and tribulations of being an undead, bloodsucking freak,
but very few comedies about the Prince of Darkness himself, Dracula.
In fact, if we're going to be technical about it, there are only four movies that qualify as Dracula comedies.
The first is 1948's Abbott and Costello Meet Frankenstein,
a veritable classic screwball comedy in which Dracula (played by none other than Bela Lugosi)
decides to revitalize Frankenstein's monster with Lou Costello's brain!
The next time Dracula was played for laughs would be 28 years later, in 1976's Dracula and Son.
In this little known movie, Christopher Lee reprises his own wildly successful portrayal of Count Dracula -
only this time Dracula descends on England to become a movie star!
Another obscure film was 1985's Who's Afraid of Dracula? 
In this wacky movie, a timid real estate agent and his eccentric, near-sighted client
attempt to avail themselves of an old Transylvanian castle - and you can just imagine who shows up with stern objections.
Finally, there's 1995's Dracula: Dead and Loving It! A raucous send-up of Bram Stoker's famous novel
and the adaptations it inspired.  This comedy was directed by Mel Brooks and starred Leslie Nielson as Dracula.
But Dead and Loving It  was a sore disappointment for fans of comedy and horror alike.
And it hasn't gained much appreciation in hindsight.
halloween is a funny holiday?
Halloween might feel like a holiday, but it's actually a celebration according to federal guidelines.
You might have noticed that nobody gets the day off from work or school on the day of All Hallows.
Though it's not a federal holiday, October 31 is a night of celebration for most Americans.
Many claim it's their favorite celebration (though they'll often use the term holiday).
Dressing up in costumes and fantasy role-playing is fun for most kids and adults.
Candy and other treats are also integral to a proper Halloween festival.
The traditional costumes of the celebration are usually "creepy"or "spooky"but funny Halloween costumes
are just as popular.  Whereas one person may try to come up with the ghastliest get-up,
another may go the extra creative mile for laughs. In this way, Halloween is often considered a holiday celebration
of humor and playfulness.
Halloween is a fun festival for folks who enjoy a funny joke - or good fright!