coloring pictures
Holiday pages!

Coloring Pictures Holiday!
What's better than celebrating all the happy holidays?  Want a hint?
( coloring pictures holiday )
You guessed it!
Coloring Holiday Pictures is a great way to make all the happy holidays even more happy!

Happy easter!
Free Easter Bunny Printable Download -Coloring Pictures Holiday-
April Showers Bring May Flowers -
and Bunnies and Chickies and Fancy Colored Eggs!
Get your Free Easter Bunny coloring activity page right here!
Just download and print as many as you like!
Easter Eggs and Candy! Free Printable Download -Coloring Pictures Holiday-
Colored Eggs and Candy.  That's what Easter is all about!

LOL - Some folks think so!
Get your Free Easter Eggs and Candy coloring page right here!
Just download and print as many as you like!
Continue scrolling for more free holiday coloring pictures!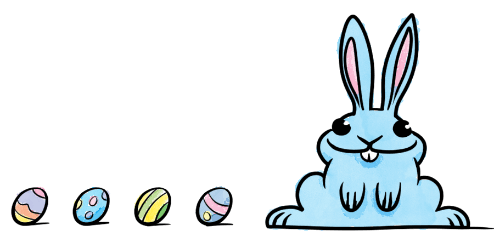 Find more Easter Coloring Pages with Puzzles - Right Here!

More holiday pictures to color!
We have coloring/activity pages for lots of holidays! 
Coloring, drawing and puzzle solving is always a fine way to wind down during the holidays!
St. Patrick's Day!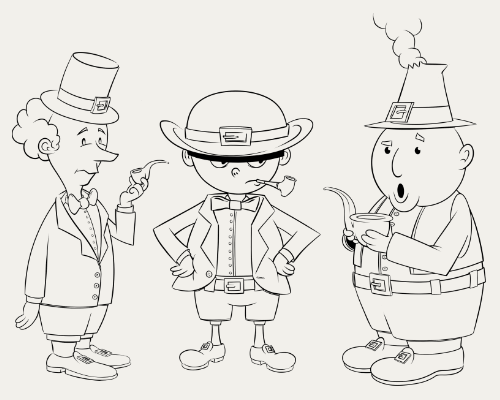 Have a look at our outrageous Funny Leprechauns Coloring Book!
Or download these Free Leprechaun Coloring Pictures - holiday or no holiday!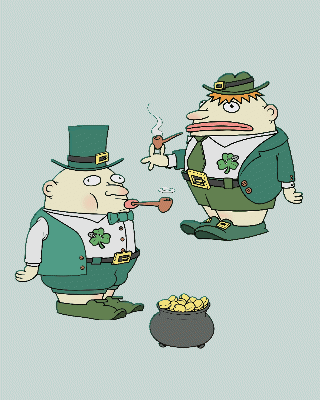 Joy for The Funny Leprechauns coloring book! -Coloring Pictures Holiday-

Funny Leprechauns!  The most unique St. Patrick's Day coloring book this side of imagination - full of fun leprechaun characters only dreamt of in your weirdest dreams!
Of course, The Funny Leprechauns Coloring Book makes a great party favor
on St. Patrick's Holiday.  But don't worry about St. Patrick's Day!
Our Funny Leprechauns Coloring Book will satisfy any craving for outrageous characters to laugh at (and color)! 
17 leprechaun characters with puzzles and games.
There's something for everybody in this fun coloring activity book!
The Funny Leprechauns book of pictures and puzzles will delight anyone who enjoys unusual cartoon characters any day of the year!
Get all the details about our Funny Leprechauns Coloring Book!
Valentine's Day!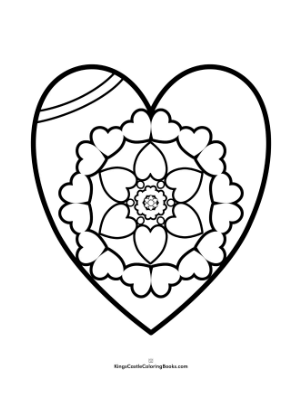 A Free Valentine's Day heart for your sweetie! - Coloring Pictures Holiday -
Valentines Day has come and gone - but it's never out of fashion
to give your special someone a bouquet of red roses,
a box of chocolate, and  a nifty free coloring page!
Happy Halloween!
Happy Thanksgiving!



King's Castle Coloring Books is a brand new website
and we're making coloring pictures for the holidays!

Enjoy these Free Printable Downloads
Just click, download, print, and start coloring right away!

Fourth of july!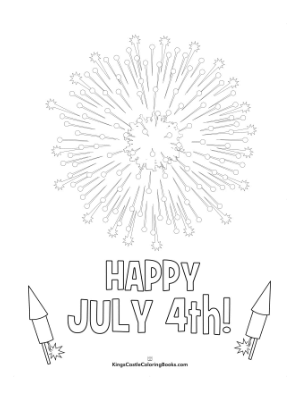 Happy July 4th! -Free Printable Download-
Independence Day is always a blast!
Just in case you like to color explosions and bombs,
we're keeping this Fourth-o-July coloring page
right here for a little while longer!

It's a Free Download you can keep and print as many as you like.
Have fun!
The King likes to talk fancy!
He just wants you to have a look at his coloring books!

We've got family-friendly coloring books
for kids of all ages!
King's Castle Coloring Books include geometric designs, weird cartoon characters, fun animals, word games, mazes and puzzles!


Free Samples, Right This Way!
What is a holiday?
Most dictionaries define the word "holiday" in four ways.
The first being a derivative of "Holy Day", inferring the day in question is reserved for a specific worship or expression of gratitude to one's deity of choice.
Another use of the word is simply to describe the suspension of work, and a third, along similar lines, to describe a period of respite or travel for pleasure.
There's also the commemorative use of the word for people or events we deem worthy of celebration/commemoration.
Roll all these ideas into a ball and you've got yourself a reason to declare a holiday for anything your heart desires!
How about a holiday for coloring books?
Believe it or not, In the U.S., August 2nd is  National Coloring Book Day!  Not only that, but September 14th is just plain ol' National Coloring Day!

The King of Coloring invites you to his merry land for a coloring celebration with his troubadours!
Remember, coloring books and pages are just as much fun at parties as they are good for quiet time alone.
However you choose to celebrate holidays, The King is here for you!
Keep scrolling for more free holiday coloring pictures!

Fun Coloring Pictures
Holiday pages!
What is the oldest Holiday?
That has yet to be agreed upon...
What is the first holiday
ever celebrated?
Depends on who you ask...

where was the first holiday celebrated?
You might as well ask Magic 8-Ball...

Babylonians, Greeks and Romans were celebrating stuff 4,000 years ago. Who can get to the bottom of that?

In the 'New Land', since the 1600s, many factions have been jockeying for position to claim the oldest Holiday.

Pagans, Puritans, Pilgrims, Jews, Catholics, Celtics and many others offer narratives claiming the earliest celebrations.
Halloween,Thanksgiving, Christmas and Passover are all tied for first place somehow.
The French celebrated Christmas on Saint Croix Island in Calais, Maine 1604, New England.
So Christmas is 300 years old.
New Year's Day gets credit for being the oldest holiday by the U.S. Government.
ThanksGiving is documented 1619, but is also claimed to be well established before that date.
Annual decorating, gift giving, feasts, and dressing up as spooks and make-believe characters was a tradition long before Anoka, Minnesota claimed the first Halloween party in the 'New Land'.

Maybe Holiday celebration is just like King's Castle Coloring Books - where facts and figures aren't important!
Only imagination!
Let's have a jolly romp and look at...
New England Holidays
No longer celebrated
Training Day: Maintaining arms, defenses and passing such knowledge to the young.
Six times a year, colonists would celebrate a shooting skill competition for big prizes.
Eventually it turned into a military exercise and was taken off the Holiday list.
Anniversary Day: Ministers would travel to larger towns for a day of spiritual teachings.
At the end of the teachings, the Municipalities, and others of influence would lavish them with gifts and feasts.
Forefathers Day was on December 22, celebrating The Mayflower landing at Plymouth with prayers and dinners in praise of success in the New Land.  Sounds like Christmas or Thanksgiving!
Shad Spawning: A celebration of the migration of some fish.
The new settlers took up an old Indian custom and had themselves a good ol' time.  Anything for a party, right?
Agricultural harvests often turned into street parties and neighborhood banquets.
The festivities involved masquerades and street shows about mythological characters and superstition.
Logging expeditions, maple sugar making, corn shucking and apple peeling are just a few of the things town-folk would celebrate to keep moral high in wintery days of old. 
The strange rumor of  YELLOW DAY
Something unusual that comes up when looking into American Holidays is 'Yellow Day'.
Legend has it that a yellowish haze descended on New England in the early 1700s.
The land, the water, homes and horses alike shimmered with dazzling hues under the influence of this weird miasma!
Personal dairies and newspaper accounts referencing Yellow Day were recorded as far back as 1706.
The Yellow Day phenomenon would occur suddenly.  Folks would drop what they were doing and celebrate the beauty of the realm in traditional festival style.
Apparently, the Yellow Day phenomenon was considered a holiday because it was anticipated, a recurring event!
Let's hope Yellow Day comes around again! Sounds like a good time!
Coloring Pictures Holiday! The holidays are more fun with coloring activities!
We hope to be part of your holiday coloring fun this year - and many years to come!
Coloring books satisfy lazy afternoons and parties alike!
You can't go wrong with a good coloring book or two -
or three or four!

We make coloring books!
And this is our growing line-up of books
for kids of all  ages !

Free Samples, Right This Way!
What is America's favorite holiday?
2021 Polls are unanimous among age and gender. Christmas!
Surprisingly , Thanksgiving is ahead of Halloween.
We have a crack-up-bang with Independence Day in fourth place.
Fluffy Easter rounds the 5th corner.
The resolute of NEWYEARS is in 6th!
And
Valentine's Day is America's least favorite holiday!

Hooray for our favorite holidays - fun and games and coloring books!