Somewhere, at the rainbow's end, Funny Leprechauns puff pipes, chortle, and snort!
Free Printable Download Page!
We hope you enjoy coloring this Free Printable Download!
Don't forget - Green is great, but unexpected colors are more fun!

Continue scrolling for another Free Sample!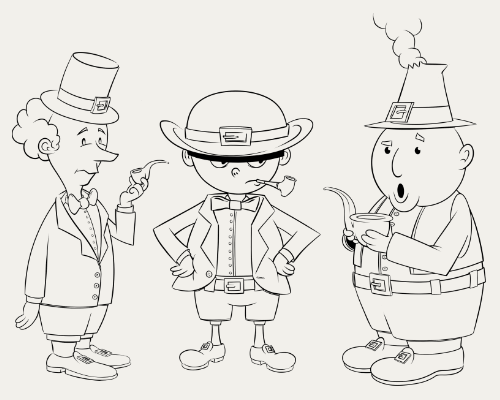 Do you recognize these famous funny "leprechauns"?
The word leprechaun likely comes from the word "leathbhrogan" or "shoemaker".

Leprechauns are said to be impish, fairy-like creatures, exclusively of the male persuasion, with grouchy dispositions and a penchant for snooping on humans, causing mischief and general naughtiness before retreating to their enchanted realm in the forest.
If you catch a pesky leprechaun, you may be in good fortune - provided you can best him in a battle of wits over his fabled pot of gold. To date, though, no leprechaun has led a living soul to rainbow's end, where the bounty supposedly rests.
When they aren't accosting human-folk, leprechauns busy themselves by making and repairing footwear
for the various denizens of the hob-goblin territories.
They earn a good living and hide their reward at the foot of a rainbow where no one can find it.
Funny Leprechauns for St. Patrick's Day - or anytime you're in the mood for strange company!