St. Patrick's Day Coloring Book
Funny Leprechauns!
No need to wait for St. Patrick's Day to enjoy the shimmering shenanigans of these laughable leprechauns!
Of course we're hoping this Funny Leprechauns Coloring Activity Book will sell like flap-jacks
come St. Patrick's holiday time - but, as you'll soon see, this is the coloring book that will delight kids and adults
any time of year!
St. Patrick's Day Coloring Book - Funny Leprechauns!




It's the funniest bunch of leprechauns you ever had the fine fortune to feast your eyeballs on!

There's never been a collection of frolicsome fairy-folk quite like this - and there never will  be!

Includes 17 leprechaun characters with puzzles and games.
There's something for everybody in this fun coloring activity book!
Continue scrolling for a Free Sample!

Free St. Patrick's Day Coloring page
Free Printable Download Page!
We hope you enjoy coloring this Funny Leprechaun Free Printable Download!
Don't forget - Green is great, but unexpected colors are more fun!

Continue scrolling for another Free Sample!


St. Patrick's Day coloring Book



If you're looking for a faster way to get a leprechaun party started, you can get the Printable Download of our Funny Leprechauns Coloring Book.

As soon as you order, you'll get a download link and you can print as many copies as you need!

What do leprechauns
have to do with St. Patrick's day?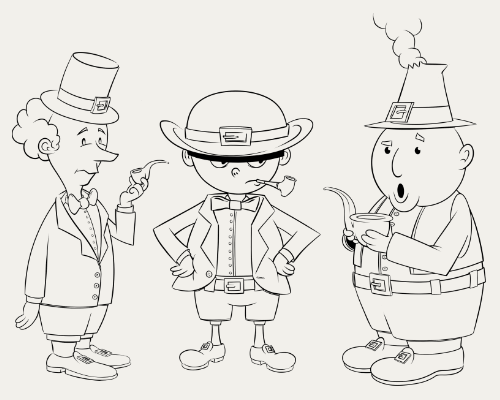 Do you recognize these famous funny "leprechauns"?
The word leprechaun likely comes from the word "leathbhrogan" or "shoemaker".

Leprechauns are said to be impish, fairy-like creatures, exclusively of the male persuasion, with grouchy dispositions and a penchant for snooping on humans, causing mischief and general naughtiness before retreating to their enchanted realm in the forest.
If you catch a pesky leprechaun, you may be in good fortune - provided you can best him in a battle of wits over his fabled pot of gold. To date, though, no leprechaun has led a living soul to rainbow's end, where the bounty supposedly rests.
When they aren't accosting human-folk, leprechauns busy themselves by making and repairing footwear for the various denizens of the hob-goblin territories. They earn a good living and hide their reward at the foot of a rainbow where no one can find it.  Then they go stir up more trouble.  Leprechauns can't live without drama!
And guess what?  Leprechauns don't have anything  to do with St. Patrick's Day.
No more kinship with the holiday than elves have with Christmas.  They are just popular characters of myth and legend that got folded into the celebration of St. Patrick and Irish heritage.
Witness the strange habits of Funny Leprechauns!




You've found it! The next best thing to a pot-o-gold!
It's the Craziest Cartoon St. Patrick's Day Coloring Book ever made!


Funny Leprechauns - a book chock full of strange and hilarious leprechauns for your coloring pleasure!

This St. Patrick's Day Coloring Book will liven up your St. Patrick's Day celebration - or any jolly occasion - so go right ahead and order one or more today!
Continue scrolling for a Free Sample!
We make coloring books!


Above is our growing line-up of coloring books for kids of all ages!

Coloring books satisfy lazy afternoons and parties alike!
Pretty amazing, don't you think?
Free Samples, Right This Way!
Who was Saint Patrick?
Saint Patrick's Day is a long standing Irish holiday, sometimes called The Feast of St. Patrick.

The life of St. Patrick and the origins of the holiday itself are as cloudy as the rolling green hills of the Irish landscape. According to legend, he was a Brit who chased all the snakes out of Ireland or some such thing.

Academia introduces Saint Pat around 400 AD.
For some reason, Patty doesn't tell the truth about his father's occupation in his biography, stating that he is a deacon. In truth, he was a Roman Tax collector.  Perhaps he was embarrassed to be associated with such a racket.
As the story goes, Pat was kidnapped by Irish marauders at 16 years of age, then sold into slavery to a Druid priest.
St. Patrick never goes into detail about the ambush. Why would he skip the details of his capture?
What happened to his folks and kin?  What were the consequences of the village in the aftermath?
Very peculiar, giving Patrick is of excellent intelligence, according to his own writings.
Patrick claims his people deserved to be abused by the Irish because they had gone away from God, but he gives no examples of these cultural misgivings.
There is no historical location of his whereabouts for over 60 years.

Academia claims he has an autobiography.  This one page paper (not a book) doesn't say where he was enslaved or to whom. Nor does it clarify what his slave duties were.  Maybe he was a shepherd? It's not clear whether he was a shepherd when he was in captivity. Seems like St. Patrick's life was pretty easy as a slave. He did a lot of roaming around the forest and the mountains, looking for perfect places to pray.
We make coloring books for kids and adults!

Coloring Books make great party favors!
Also perfect for down-time and just plain relaxing.

Coloring books are magical that way!

Free Samples, Right This Way!
St. Patrick's escape
"It was in a dream when I heard the angels call to me", says Patrick. "You will return home very soon" they said to him. So he ran 200 miles to find the ships leaving port. Nobody stopped a slave from running away? Nobody noticed he was gone or checked if he was trying to escape via the port?
To his surprise, the sailors and captains would not let him board the ships. This confused Patrick because God and the angels told him a vessel was waiting for him at the port. So he abandoned his plan, heading back to his dwelling once again. Then, without provocation, Pat claims, "Some men came to take me on board a ship saying they trusted me."
He attributes this trust to his not being a pagan.
After three days, they hit land.
There is no mention of what land they hit or where they were sailing to in the first place. From there, the story goes he performed miracles through his devotion to Christianity and the help of God, almighty.  He became superman to the captain and crew.
Why would the crew be away from their vessels?  The crew and captain didn't even want Pat to accompany them on their voyage.  Why would they follow him into the thickets?  Risking their transport being raided for provisions, stolen or sunk.  Seems strange they didn't just leave him behind and sail for another port. 
They landed and went into the forest with him  ... for what exactly?
Nor is there any explanation as to how or why these sailors left him.  Strange that they would leave a guy who could turn up riches, food, good weather and folks adorning accouterments in the forest - with but a prayer.
Doesn't say how Pat actually managed to get back to Britain. but after a brief stay there, he decides to return to Ireland to help spread Christianity to the Irish.
After all the hardship this guy went through, he wanted to go back to the place he was a prisoner? Risk being captured for being a runaway slave and to help people who didn't help him.
Some say that the traditional legend of St. Patrick was instigated by himself in text because this was how he wanted to be remembered and not as he really was, a slave trader himself.

Get your one of a kind
St. Patrick's Day Coloring Book


Funny Leprechauns for St. Patrick's Day - or anytime you're in the mood for strange company!


Free St. Patrick's day coloring page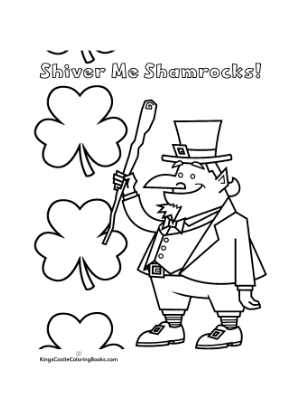 Good 'ol Grampa Leprechaun! FREE Printable Download Page!
Shiver me Shamrocks!
The shamrock has been a symbol of Irish tradition for centuries, representing everything from the celebration of Spring to national pride to religious metaphor.
From the Gaelic word "seamrag" or "seamair óg", it means little clover.
A clover is an herb that produces small flowers which bees like to make honey from.
Farm animals like to eat clover and it gives back as much as it takes from the Earth, promoting healthy soil.
The exact species of the shamrock, if it ever mattered, is no longer known, but it is said that Saint Patrick himself deemed the ever pervasive three-leaf sprig the symbol of the Holy Trinity.
Funny Leprechaun Coloring Book!