DinoKids - Dinosaur coloring pages
The book of cute dinosaur coloring pages



Dinosaurs have been depicted as cute and lovable for a long time, but this trend took a while to catch on.


There was a time when the average child didn't even know what a dinosaur was!


As dinosaurs got more and more popular, artists developed a habit of drawing and painting vicious, gruesome brutes.
But it wasn't long before dinosaurs became wildly popular and the decision to imagine them as adorable cartoon characters proved highly profitable.


The DinoKids Coloring Book is a perfect example of adorable cartoon dinosaur characters!  Sure to charm kids as well as full grown guys and gals - and they're lots of fun to detail, decorate, and color!

Get your DinoKids Coloring Book!

Dinosaur Coloring Pages

If you prefer to collect all 12 DinoKids in digital form,
here's your big opportunity!

As soon as you order, you can download and print as many pages you need to satisfy the endless color combination possibilities adorable dinosaurs may have been!
Free dinosaur coloring pages

dinosaur nostalgia
Dinosaurs are more popular than ever, but we like to reminisce about the good ol' days.
And that's just what we're going to do right now.
Marx Prehistoric toys!
It's hard to make an argument against modern dinosaur toys, from a technical point of view.
Today's toys are more articulated, more animated, and even more scientifically accurate than the simplistic plastic
figures available to kids until the late 1980s.
However, those "simple" toys of yore were just as much fun and provided hours of imaginative playtime.
Among the many toys that appealed particularly to young boys were the elaborate play sets by Marx.
Dozens of themed play sets (and hundreds of variations) were produced and sold between 1950 and 1980.
One look at The Prehistoric Play Set is enough to understand why these sets were so popular.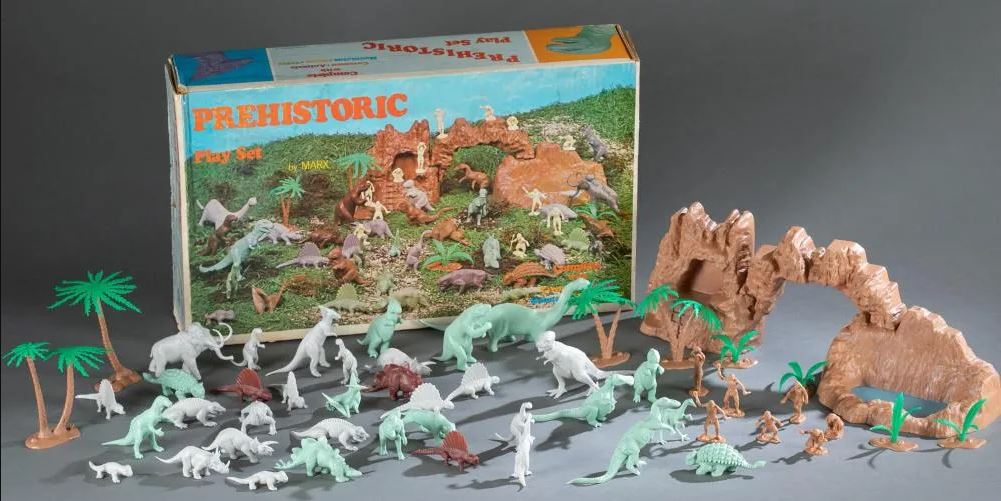 Like all Marx play sets, it featured a host of wonderfully sculpted characters and accessories.
For the young explorer with a penchant for prehistoric adventures, resistance was futile.
This was the ultimate play set.  The ultimate toy.

Sadly, Marx stopped making sets like these around 1979 and the company was dissolved by the mid-80s.
But toy collectors have kept the magic of Marx playsets alive!
Vintage sets like the one pictured above - as well as many others are in circulation today
via nostalgia websites and conventions all over the world.

The land of  the Lost
In 1973, a fantastic expedition was underway at Krofft Television Productions.
The unchartered territory?  A unique science fiction series for kids.

The Krofft brothers had a solid record for producing fun television shows
that challenged the imagination with whimsical characters, remarkable costumes, and slapstick style comedy.
Land of The Lost  would be their most ambitious production, relying heavily on optical effects and animated models
while promising genuine drama rather than punch-line driven comedy.
Land of The Lost  was a daring but triumphant addition to the Krofft library, an extravagant twist on their tried and true
cartoon-style soap operas about teenagers lost in weird worlds.
As the infamous title song goes,
Rick Marshall and his teenage kids, Will and Holly, are enjoying a camping trip
in the mountains when a rafting excursion goes terribly wrong.

An Earthquake sucks them into a raging storm and a vast, tumultuous flood plunges them over a massive waterfall a thousand feet below.
Mysteriously, all three of the Marshalls awake in their undamaged raft in a lush jungle.
It's as if they were gently placed there - which is very interesting, but they've got more important things to think about when a giant lizard monster discovers them
and is eager to find out what they taste like.

Quick on their feet, the Marshalls find refuge in a cave.
They invent a simple but effective weapon to deter the hungry monster
and hold up in the cave for a well earned rest.

Later, upon exploration of their surroundings, the resourceful trio come to the frightening realization that they are hopelessly lost in an ancient and very strange wilderness far from civilization.  It seems the cave they found would be their new home forever.

"Grumpy" the T-Rex visits the Marshalls in their cave!
The Marshalls and their new friend, Chaka

That was the gist of the Land of The Lost  show.
And it was often just that exciting.  Animated dinosaurs made frequent appearances and often served as catalysts for the drama.
But the Marshalls also developed rocky relationships with other denizens of this strange land.
Such as a family of stubborn monkey-people,
a race of vicious lizard-people, and an old selfish wizard who wants to leave
this place as much as they do.

They tried to understand the unnatural "pylons" that housed treacherous crystal technology, tirelessly searching for a clue - a way out of this "land of the lost".


Each episode ended with the Marshalls grateful to have made it through another day
with their lives and their family values intact.

It was probably the "trippiest" show the Krofft brothers produced,
but it was also the only show they produced that gave kids a genuine sense of what responsibility looks like rather than simply tickling their funny bones.
| | |
| --- | --- |
| It was picked up for another season, but as so often happens with successful television shows, its appeal dwindled as the stories and characters became recycled, redundant, and replaced. | Uncle Jack replaces Dad. |
All good things come to an end - but it warms our hearts to remember a time
when dinosaurs and strange paranormal possibilities were just another Saturday morning away!

The last dinosaur
Back in 1977, a strange hybrid made its way onto television screens around the world.
The Last Dinosaur was an American/Japanese co-production, initially meant for theatrical release
but only managed a few screenings after debuting as a "Late Night" TV movie in America.
Most of the film was shot in Japan, but with an American cast.
Rankin Bass (famous for their animated holiday specials) partnered with Toho (famous for their giant monster movies)
and produced a delightfully sloppy science fiction spectacle about humankind's tendency to mess up the environment.
The story of The Last Dinosaur  begins and ends on the hubris of an eccentric tycoon
with a passion for hunting.
He's a very unpleasant fellow, interested only in personal gain by way of besting his enemies - and he seems to consider everybody his enemy.
When he learns that scientists have discovered a strange land inhabited by dinosaurs,
he wastes no time launching a hunting expedition to find and kill a Tyrannosaurus Rex!
Bursting with thematic irony and funny rubber dinosaur costumes,
The Last Dinosaur is a charming romp despite (or because of) its clunky dialogue,
weird monsters, and bare-bones plot.
We interrupt tonight's creature feature program
to bring you this surprising announcement:
We're giving away
 Free
dinosaur coloring pages
ripped right from
The DinoKids Coloring Book!



DinoKids like to play with crayons, colored pencils, or paints - and you can be sure they'll make great playmates for youngsters - as well as the young at heart!




Ready to start coloring?
These Free Printable Downloads
are yours forever!



The DinoKids sprange from the primordial ooze to enjoy time with you, whether that involves a quiet afternoon or a birthday party!

Get all 12 funny little DinoKids in this one of a kind item from King's Castle Coloring Books!

Get your DinoKids Coloring Book!
And now back to the show!

WHEN MAN, WOMAN AND BEAST ROAMED THE EARTH - UNTAMED! THIS IS HOW IT WAS...
one million years b.c.
Romeo and Juliette with dinosaurs!
This fantastic idea was turned into a movie, One Million B.C., way back in 1940!

26 years later, Hammer Films (famous for making Frankenstein and Dracula popular again),
would remake the film as One Million Years B.C.

The movie was an instant classic in the eyes of dinosaur fans.

An epic fantasy, One Million Years B.C.  tells a tragic story of a prehistoric man and woman from very different tribes
who fall for each other in a savage world
that is destined to tear them apart.
Tumak is exiled from his family of untrustworthy brutes and is on the verge of death when he is discovered by Luanna.
She and her people shelter Tumak and make him well again.  But Tumak is a brute by nature and is rejected by all but Luanna.
She thinks he's hot stuff and the two of them go their own way, hopelessly devoted to each other
as dinosaurs and old rivals threaten their love and their lives until the Earth itself plunges the whole prehistoric world into a great volcanic abyss!
The film boasts magnificent landscapes, a luscious musical score
and superb animated dinosaurs.
It also makes no apologies for its depiction of "cave-people" that look more like
Barbie and Ken than Cromagnon!

The film serves as a masterclass in theatre as it contains not a word of dialogue
but provides high drama and action from start to finish!
For sheer fun, One Million Years B.C.  is pure gold.




Get your Free Dinosaur Coloring Pages!
The land that time forgot
Edgar Rice Burroughs penned a wild novel called The Land That Time Forgot  in the early 1900s.
In 1974, Amicus Productions (famous for their freaky horror movies) got the nerve to produce dinosaurs
for the big screen - with Burroughs' classic adventure story as their blueprint.

The Land That Time Forgot is a swashbuckling adventure set in the WW I era, whereby the tables are turned
on the captain and crew of a submarine by their prisoners of war.
The prisoners manage to sabotage the sub's navigation, causing it to sail for parts unknown.
Upon discovering his sub has been penetrating the Arctic Region for three days, the captain
surprisingly allies with the prisoners. He respects their victory - and the fact that the war is no longer a priority.
A desperate search for land leads to conversations about old rumors of oasis' beyond the great ice walls.
| | |
| --- | --- |
| The unlikely crew find out the rumors are true - but they are not  prepared for encounters with the blood-thirsty dinosaurs that live there! | |
The Land That Time Forgot is a fun movie about a pair of good ol' boys who learn to
rely on each other rather than fight - while they fight  with dinosaurs and cave men!


The kicker is: not all of the captain's men have let bygones be bygones.
Our heroes end up in a bad way as this ironic tragedy comes to conclusion.
The dinosaurs are fantastic, beautifully designed characters!
But it seems as if the folks hired to film the complicated puppet effects
were not out to win any awards.

On the one hand, the dinosaurs are wonderfully wonky, fun to look at, etc.
but on the other, we missed out on some great dinosaur action if the same rubber puppets were in better hands.
Yes, coloring is a pleasant way to spend time alone or with friends and family!

Have a look at our other Coloring Books!

Our growing line-up of coloring books are the perfect
gifts for kids of all ages!

Free Samples, Right This Way!